With Christmas coming closer, 3 kids in the house and lots of toys to test, I'm often asked how I manage the Christmas presents. So I thought it might be useful to share my list of our favorite educational baby toys.
Between 0-6m babies are not yet mobile so the best toys for them are the ones that offer visual and tactile stimulation. From 6 months onward  the baby toys that are most appreciated by the little ones are the ones that are stimulating their desire of mobility and to practice the fine motor skills.
All the toys featured below are either toys we have ourselves and love, or toys that got recommended to us by friends and family.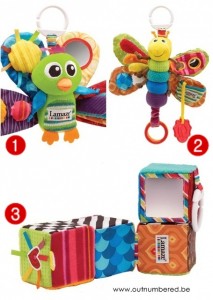 Visual stimulation toys
Freddy the firefly (1)
and Jacques the peacock (2)
from Lamaze: The big eyes and strong colors work great on babies. Babies, from newborn to about 3 months, are fascinated by the black and white contrasts on the back. Later on they get interested in touching and investigating the colorful front with all it's features and textures.
The Mix & Match Activity Blocks (3)
 is the kind of toy that grows with your baby. First you can use the black and white parts as visual stimulation, and later on this can be used as a stacking toy.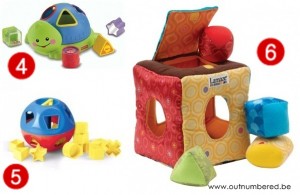 Sorting  toys ( fine motor skills)
Fisher-Price Turtle Shape Sorter (4)
Among all the sorting toys out there, I particularly like this one because it is robust, simple (only 4 blocks) and most blocks have a rattle. If you want more blocks, the Sorter from Tupperware (5)
 is great as well. Another variant of the same toy but in a softer version is the soft sorter cube from Lamaze(6)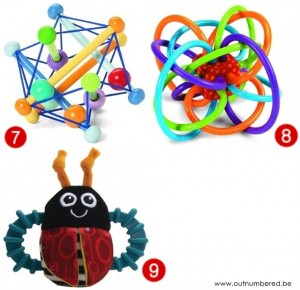 Rattling toys
Skwish (7)
and Winkel (8)
from Manhattan Toys are light and great rattling toys for little hands to hold and perfect to take along also as they can be easily packed in a baby bag.
Ladybird from Lamaze (9) was the favorite toy of one of our friend's baby when she as 3-4 months old. It has shiny colors and is equipped with biting rings.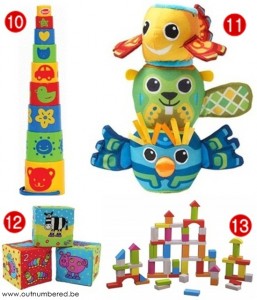 Stacking toys
Gowi Stacking Buckets (10)
: There are many ways you can play with this baby toy. Bigger babies exercising their motor skills while stacking the pots into each other or when building a tower. Smaller babies have fun destroying the tower you build for them and laugh ecstatically when the pieces all on the floor.
Totem stacker from Lamaze (11)
 This is the easier version of the stacking pyramid. Due to the magnets in all 3 totem pieces, they stick together easy which leads to less baby-frustration.
Other great stacking toys are blocks and depending of the day my kids would rather play with soft blocks (12)
) or wooden blocks (13)
. All of them are very much fun!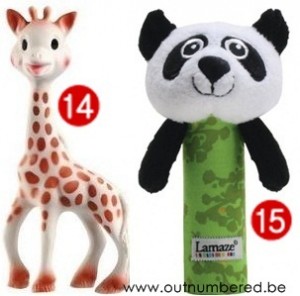 Grab & squeeze toys
Sophie the Giraffe (14)
and the Panda Bend and Squeak from Lamaze (15)
are both amazing toys that are making a sound as soon as they are gently squeezed. One is of soft rubber and the other one of soft material, both of them very tempting to be sucked by little ones.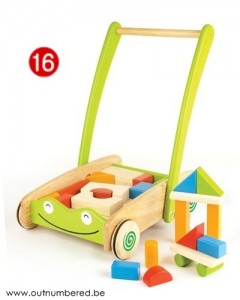 Toys that stimulate mobility
Cart with blocks (16): Having something like this was very nice when my kids got interested in standing up (around 9 months) as they had something to hold on to. Now we mostly play with the blocks and Elena (14m) loves to destroy my towers and tries to build her own.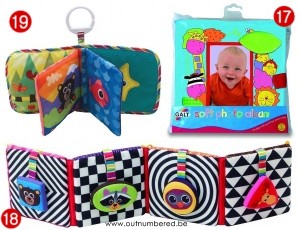 Books
The soft photo album from Galt (17)
. It's great to get them to know the family and exercise the names and we found that it protected the pictures very well.
Puzzle book from Lamaze (18)
: a wonderful toy that evolves with the baby. First providing visual stimulation with its high contrast side, and later on supporting the fine motor skills due to it's simple puzzle parts.
Soft books (19) are great as a take along toy. Besides that they stimulate the baby's curiosity through color, texture and noise, they are light, can be attached to the stroll and can be easily stored in the purse or bag.
And nr. 20, that's me! Somehow, my kids consider me a great toy 🙂
Do you have other suggestions? If so, leave a comment so that we can add it to the list! 
For your weekly dose of creative ideas, subscribe to the CreatifulKids mailing list: