If you have some  cardboard boxes, keep them for some future crafts with cardboard. See how my kids managed to make a castle out of cardboard.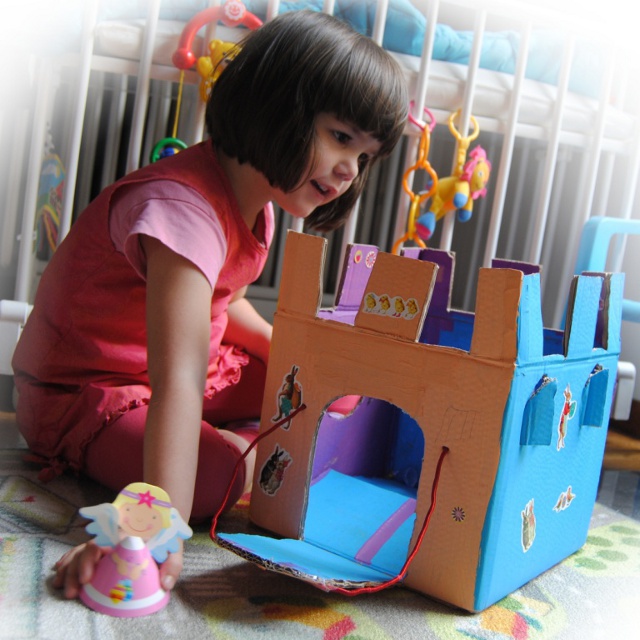 Last weekend was one of those rainy and chilly spring days. While being stranded indoors, I thought of doing some crafts with cardboard with the kids. The kids decided they wanted to learn how to make a castle out of cardboard.
What we used to make a castle out of cardboard:
A cardboard box
A paper cutter knife and a pencil
Water paint and brushes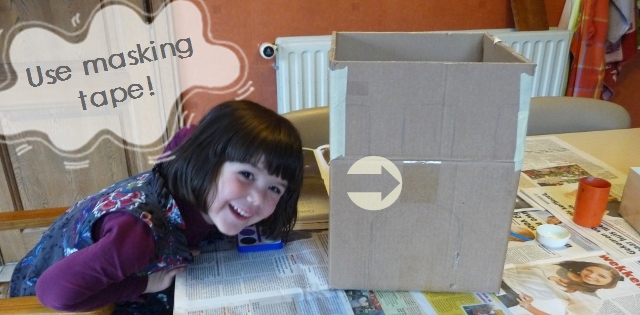 We carefully chose a cardboard box for this cardboard craft. As the box was not that big, I taped the corners with masking tape to give it more height. I did the same on any shiny part of the cardboard box where paint wouldn't stick.
Together with Victoria and Lukas we decided on the colors to use for the different sides of our castle out of cardboard.  This is an easy craft idea for kids. Once everything was nicely painted, the hardest part was actually the "waiting" to let the paint dry, before I could draw the castle gate and windows.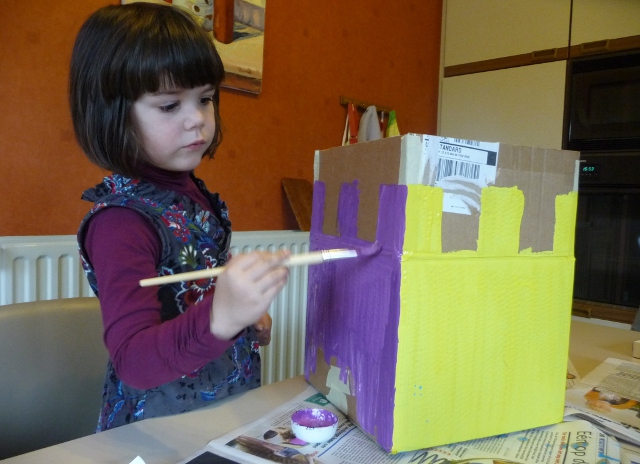 Together we discussed where the gate should be, how many windows should the cardboard castle have and where to place them, and finally how to cut the gate and windows. Victoria insisted that the windows need to have shutters, so that they can be closed during the night when it gets cold.
It was a good thing we discussed about this before I started cutting, because my view on how to make a castle out of cardboard was very different than Victoria's: in my mind the windows would have been big and with no shutters. If I would have started cutting my big windows I bet she wouldn't have been too happy.
So now all was left for me to do was the actual cutting under the tight supervision of Victoria . Then we all did together the gate chain of the cardboard box castle. I also made a balcony and then I god scolded by Victoria. The was upset because the balcony of her cardboard castle was not safe and that the princess could fall.  What can I say… she was right. So we agreed that we'd take care of the safety issue later, and for now the princess just had to take care and not fall from the balcony.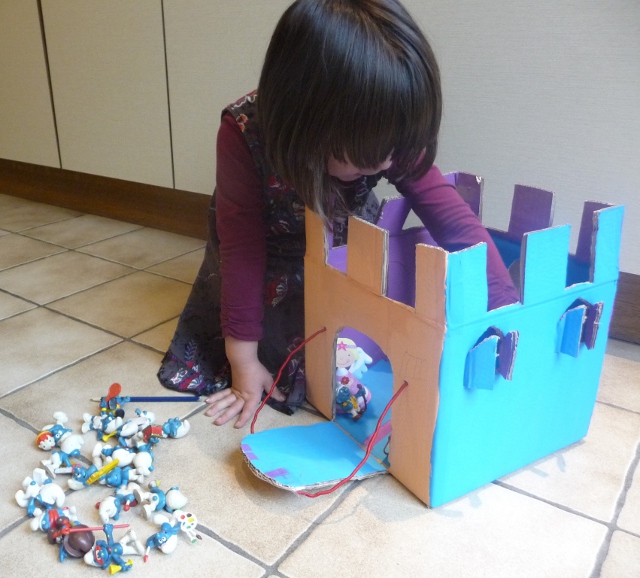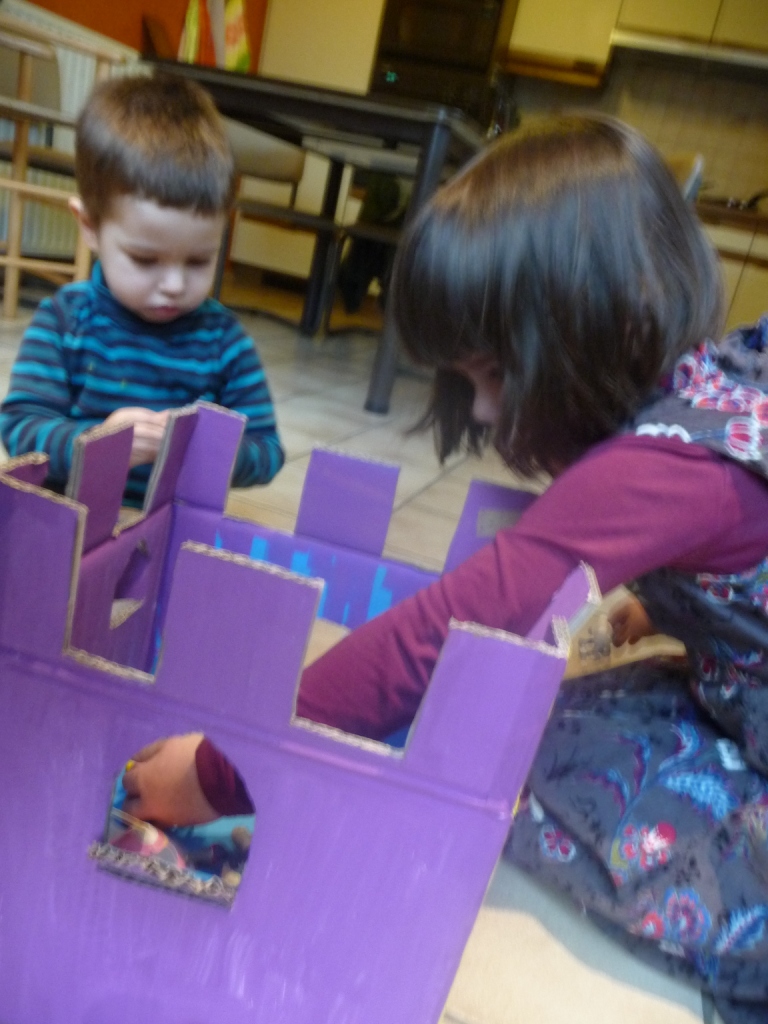 Now that we had a nice looking castle out of cardboard it was time to play.  A princess and loads of mini-smurfs was all we needed and soon we had a big story going on in the castle.
First I was involved in the play but then I just sneaked out and to my delight Lukas and Victoria continued playing together, discussing and building on each other's story.
The next day, we did take care of that "safety issue" with the balcony. Victoria decided to use some FischerTip to fix the balcony and some leftover stickers from Easter to further decorate the castle. All in all  we got ourselves a quite nice creation!  don't you think?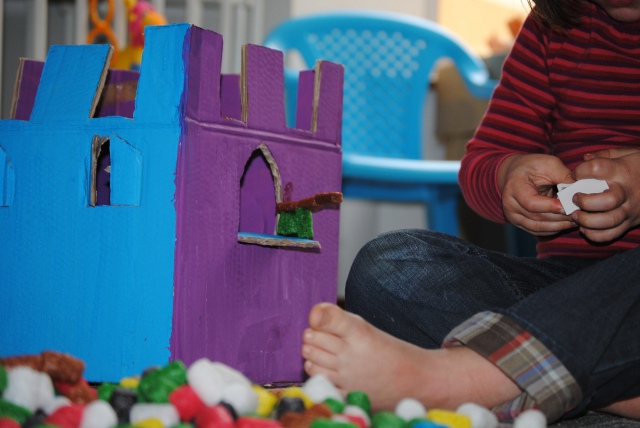 What have we learned from this creative activity with cardboard:
We learned about cause and effect,
Discussed about safety,
Understood that sometimes we need to have patience and
We used our creativity and imagination
This is definitely one of those crafts with cardboard that should to be repeated!
At kindergarten Victoria's  symbol is a castle, so she was quite enthusiastic learn  how to make a castle out of cardboard. We got some inspiration for our castle from this cardboard castle.